Deep Sixing The Quest To Downsizing
Deep Sixing The Quest to Downsizing
Finally, our family of five is living our newly remodeled "old" house. It is actually our old house — the one Matt and I purchased as newlyweds and lived in for eight years until one day, a killer deal fell into our laps.
The deal was a huge, brand new house, on the side of a hill, in an upscale neighborhood. We put our starter house up for rent, and for eight more years, expanded our lives, our family, and our belongings — all while perched on the side of that hill and enjoying that home's magnificent view (and some pretty serious solitude since we had few neighbors) —and did our best to ignore the fact that making use of the backyard, three stories below, was far more trouble than it was worth.
As Benson grew from a baby to a boy, the utter uselessness of that backyard became harder and harder to ignore.Until one day, we looked out at the view, and then at each other, and realized the view wasn't worth the trade off.
We needed flat land, a real backyard, and a real neighborhood — and we knew exactly theneighborhood we wanted — our old one. But we couldn't just move. Our starter house needed major remodeling; major remodeling requires lots of time and money. So, we sold our house, took Matt's generous parents up on their offer to live with them for the time it took to do the remodel,** and began purging.
Downsizing from a 4,000 square-foot house on a hill to a 1,800 square-foot, real-neighborhood house meant we would eventually be living in a home that could have fit inside our other house (along with both our vehicles and a McDonald's franchise, including one of their play structures) — and, we aren't empty nesters.
"Deep six-ing" our possessions was essential. Deep six is a nautical term referring to the standard depth for burying a body on land. In other words, once our extra stuff was "tossed overboard," it was dead to us.
We sold and/or gave away furniture, appliances, clothes, tons of toys (don't tell Benson), bedding, games, books — you name it. We deep sixed until we were sure we were down to the bare bones needed to live a happy, fulfilled life.
Then I filled an entire notebook with lists, graphs, charts, and painfully exact measurements. I poured over the architect's plans, examining and questioning every square inch.
And I asked questions of him and of ourselves:
Is a bulky, wooden support necessary to brace the new beam across the ceiling of the great room, or would a steel beam, half the size, do the same work?
Answer: A nice, slim steel beam will do the trick and look cool while doing it.
How much room does our favorite, wooden, salad bowl take on a shelf and in our hearts?
Answer: A lot of both. The salad bowl made the cut.
How many board games is too many?
Answer: There is no such thing as too many board games.
Where can we put Brooklyn's beloved piano?
Answer: Carve out part of her bedroom wall, opening up the triangular space under the stairs, thus gaining another 21 sq. ft. (Brooklyn thinks sleeping there is ever so Harry Potter-ish.)
How many BBQ rubs does a person need?
Answer: 18, in addition to a lot of other spices. (Don't judge me.)
Space-saving Solution: A steel, 8" high backsplash to hold cool, round, magnetic, spice jars.
How ever will we fully expand our amazing table that seats up to 20 people?
Answer: Reconfigure the living room/dining room layout so no one has to wrestle the sectional and coffee table out to the front yard for game nights.
How can we save money on the remodel? (This one is a two-parter.)
Answer #1: Buy five sets of gloves and a box of face masks and get to work tearing down walls and once-charming coved ceilings, adding both physical and visual space.
Answer #2: Enlist my stepdad Paul to (among many other dirty jobs) help remove a useless, basement-to-roof, brick chimney, thus gaining four square feet (two upstairs, two downstairs).
Where is all the rest of our stuff going?
Answer: Allot a reasonable amount of shelf space for every suitcase, every paint can, every book, and every stuffed animal. We were ruthless (and sometimes sneaky — don't tell Benson).
And now that we are actually living in our wonderfully trimmed-down home, the next order of business is to take a deep, collective breath…and deep-six a whole lot more stuff.
Jessica Side
EvoReal
| | |
| --- | --- |
| Phone: | (509) 624-6873 |
| Fax: | 509-271-0037 |
| Email: | info@evoreal.com |
| Website: | www.evoreal.com |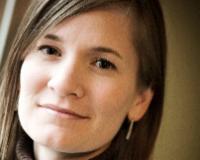 Author:
Jessica Side
Phone:
509-624-6873
Dated:
January 15th 2018
Views:
430
About Jessica: Hi! I am the broker/owner of EvoReal and have been actively working in real estate for over 13 years...