Christmas Miracles
One of my favorite Christmas stories is a true story my Irish grandmother told my mother, my mother told me, and which I now tell my own children. So, get yourself a cup of cocoa, preferably with some marshmallows, sit by the fire and enjoy.
Albuquerque, New Mexico, during the Korean War is the setting. Maureen, my grandmother, was then a young mom, far from her family in Ireland, raising four, little children while her husband George, an enlisted man, served in the Air Force, in Korea.
Money was tight, really tight.
My Uncle Michael was the oldest, a whole seven-years old at the time, and he only wanted one thing for Christmas, a shiny, black bicycle. As a matter of fact, he refused to give Santa or his mother any other gift ideas.
Grandma did her best to steer him away from expecting a bike. She explained that bikes were expensive, and neither she nor Santa had that kind of money. Michael told her not to worry, that Santa didn't need money. Santa had elves who could make the bike for him!
The argument/discussion went on for at least a month as Michael, the great believer, told the whole neighborhood that he was getting a shiny, black bike from Santa.
Christmas Eve, Michael went to bed convinced that there would be a bike under the tree.
His mother went to bed in tears, knowing the few, small gifts she'd been able to afford for her four children did not include a bicycle.
Early, way too early, Christmas morning, knowing that he was not allowed to go into the living room before his mother got up, Michael ran into his mom's room, climbed on the bed, and, eyes dancing, asked, "Are you ready to go see the bicycle Santa bought me?"
His mother was so frustrated by then, she was actually angry. "Michael," she said sharply, "there is no bicycle! I told you I had no money for a bicycle!"
Michael just smiled and said, "I told you Santa doesn't need money. I just know there is a black bike under the tree."
Grandma Maureen, completely defeated by now, wiped a tear away, and asked quietly, "Why don't we just go see what Santa did leave for you?"
From the hallway, she could see light coming from the living room. She knew she hadn't left the lights on the tree plugged in, but clearly, they were o
n.
They stepped into the living room, and there, in the dim, multi-colored light, stood a shiny, black bicycle with a big, red bow and a tag on it that read, "To Michael from Santa."
As his mom stood staring, trying to take in what she was seeing, Michael ran to examine the amazing gift. "I knew it!" he said. "I just knew it! I told you Santa would bring me a bicycle!"
For years, that's where my grandmother, and later my mother, ended the story — proof positive that Santa was, indeed, real.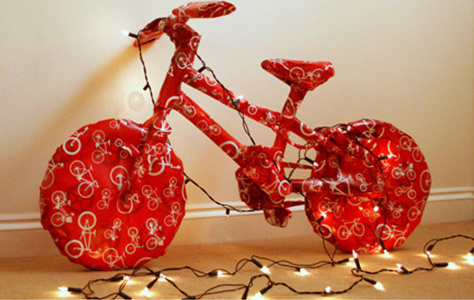 It wasn't until I was about 11 that my mother told me the rest of the story.
Later that Christmas day, my grandmother, Michael's mom, found out what had happened. For weeks, Michael had gone up and down the block telling anyone who would listen that he was getting a black bicycle for Christmas. A kind, older couple lived down the block, behind Michael's family, across the alley. They had become friends with my grandmother and knew that if they didn't take matters into their own hands, Michael was going to be an extremely disappointed little guy come Christmas morning.
The older couple found a used bicycle in the For Sale section of the local paper, and the man spent hours refurbishing it with great care — frantically hiding it whenever he spotted Michael coming down the alley to visit his workshop.
When the bike was as perfect as he could get it, the man polished the handles so that the silver shone, and then he painted the bicycle shiny black.
Because Michael's mom was the only parent in the home, she'd entrusted an extra house key to the older couple for emergencies. And with that key, in the wee hours of Christmas morning, while everyone slept, the kind man unlocked the front door, wheeled the bicycle into the living room, and for an added touch of magic just before he slipped out the door, he plugged in the tree's lights.
Long after I stopped believing in Santa Claus, that story helped me believe in the goodness of the average person. I still do.
I hope you all have a magical Christmas and a Happy New Year!
Jessica Side
Owner/Designated Broker
jessica@evoreal.com
(509) 62-HOUSE Over 750 Homes Sold Since 2013
Check out these exciting links:
Team EvoReal is:
Raymond Borkton | Kathryn Bradford | Lorissa Britos | Erich Graff | Casi Gronenthal | Shael Larson | Cindi McCann | Julia McMahon | Troy Puyear | Stacey Sampson | Jessica Side | Matt Side | Dan Wilson
Author:
EvoReal *
Phone:
509-624-6873
Dated:
December 11th 2018
Views:
389
About EvoReal: Team EvoReal Is: Raymond Borkton | Kathryn Bradford...